« Basilique » agricultural tunnel
This tunnel with a unique design is designed to optimise storage needs. Thanks to its 10.30 m width, it's perfectly set-up for breeding: nursery, calves, fattening, grass calves and heifers.
Presentation of the Basilique agricultural tunnel
A real technical feat, its pointed arch shape gives this agricultural shelter a greater resistance to wind and snow than the half-cylinder models with round or oval 90 x 60 arches.
This storage tunnel complies with the NF EN 13031 standard. The hoops are made of four arches with a pointed shape to limit the accumulation of snow and formation of water pockets. The arches fit together using an assembly cross that also receives the poles between two arches.
Easy to install, our storage tunnels do not require a foundation, just a trench in the ground on each side. A 650 g/m² reinforced PVC canvas covers the structure. Lateral tension is created by burying the canvas in the trenches and the gables end with a hem incorporating a sheathed, steel cable to perfectly hold up in the wind.
At a minimum, authorisation to work is required to install this agricultural tunnel. According to the decision by the civil service, a building permit may be required regardless of the height of the tunnel (the 4 m height limit overriding the building permit rule is valid for greenhouses used for market gardening or horticulture).
Optional: RCY offers systems for insulation, gable doors, protective covers, and several colours are available
NEW! If you are an individual or a single-member EARL, we can prepare your building permit file for your agricultural tunnel for you.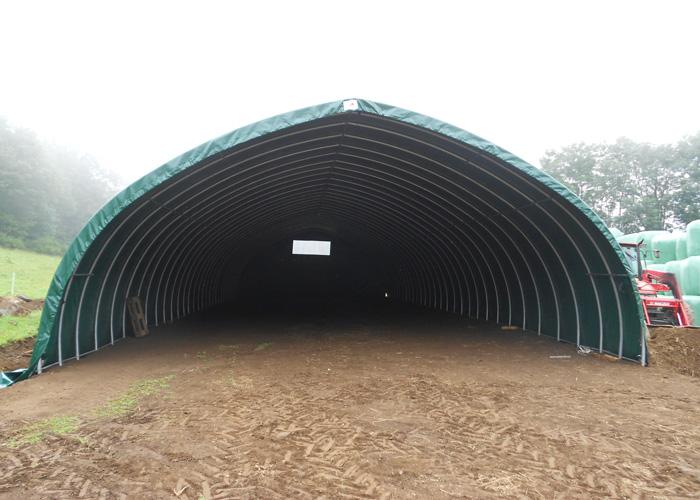 Our others agricultural storage tunnels